Budget Binder™ Bill Tracker Financial Planner | Dots
FUNancial Planning for a Strong Future


A well-balanced budget is possible with this comprehensive, FUNancial planning workbook!
When you know where your finances stand, you can be intentional about your role in strengthening our economy.  
This Budget Binder™ is your comprehensive (but ever-so-fun) workbook to track income, expenses, debt & savings.  In addition to these main pillars, you'll get a suite of useful tools to build your monthly budgets, check off bills, organize (& remember) passwords, manage account standings & more! 
The first step of this journey to financial success is yours to make. Getting your own finances on track is proof that YOU are part of the solution in securing our country's future. 
Read the features below or watch this 2.5-minute video as we flip through the binder:  
Budget Binder™ Workbook features:
12-month non-dated workbook
Each monthly section includes:

Monthly calendar with notes
Goals for that month
Savings tracker
Income tracker
Expense tracker complete with a secondary itemized worksheet for each major expense category
TIP:  use the handy bookmark to snap into your current month for quick access.

354 hand-illustrated stickers to make even paying bills fun!
Enjoy the gratifying feeling of checking off monthly bills on the Monthly Bills checklist while keeping your credit score high
Trackers for income, expenses, debt & savings for any 12-month period
Summary worksheets to consolidate key financial factors in a single view
Worksheets to manage passwords, accounts & subscriptions
Event and holiday spending worksheets to give you visibility on totals spent
Tax time checklist
Available in (3) cover styles, each with same inside pages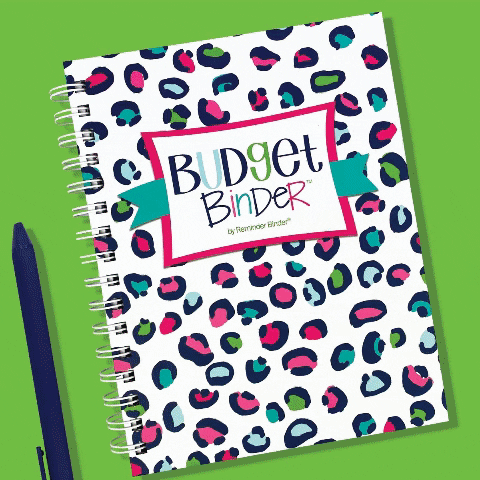 Item Specifications:
Total sheets:  78 pages + 8 laminated tabs

Sticker count:  354 assorted stickers

Actual size:  8.5 x 7 x .75 inches 

Bindery:  White metal twin coil (Fits the

 

Pull & Place Strips)

Weight:  16 oz.