Everything you want to know about the Gratitude Finder® Journal
Things are (finally) looking brighter all around us!  Let it brighten your own thoughts, too!  Train your brain to find the good things and jot them down in a gratitude journal like this Gratitude Finder®.  
Journaling about things for which you're grateful, especially now, will channel your thoughts to good things.  With so much positivity surrounding you, you'll be amazed how wonderful you'll feel!  It's gonna be a great year!
The process can curb the anxiety and elevate the positivity for you and everyone around you. This is especially important for our children and those who live with anxiety.  Many of our styles are perfect for young people, too!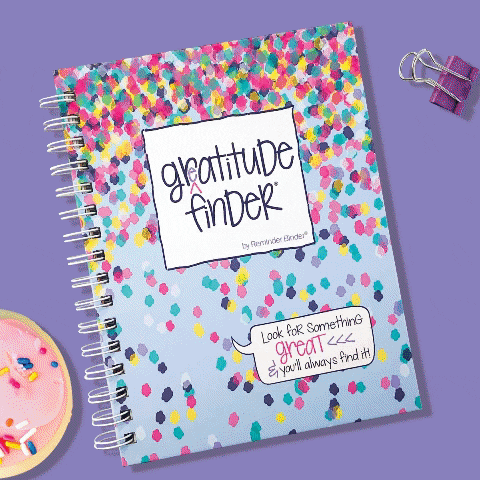 This non-dated journal is a 52-week gratitude journal created to channel positive thinking to anyone who uses it.  When you elevate your own attitude of gratitude you'll be amazed by what positivity surrounds you and how contagious thankfulness can be!
This awesome journal comes in 16 styles. This includes [4] Boy-Centric styles! Each includes the same content.
Flip through the Gratitude Finder® Journals in the video below:
OR
Scroll down to get a closer look "under the hood" of all the features and functionalities of the Gratitude Finder® Journal.
Maybe kick the tires a bit to see if this is your new trusted tool.
The #1 question we get is how do I use this journal?
Well, the truth is you can use the Gratitude Finder® Journal however you wish.  With it's simple, non-dated layout, you can write as much or as little as you wish. 
Write special moments & fun memories to look back on for years to come.
The 165 stickers on (4) full sheets are just what you need to make every page POP! What goes better with gratitude than bright, colorful stickers?
The best part of keeping a gratitude journal is reflecting on all the good moments. The quote tabs every three months are built in for this purpose. Pause. Reflect. Be grateful.
Easily slip your Gratitude Finder® into your purse, bag, or backpack & then head out to conquer your day.
Take your journal with you to have a moment of gratitude wherever you go!
Stressed out? Breathe and look for the good. On your lunch break? Take a moment to jot down something great about your day. 
No matter how or when you can be grateful anywhere!

These are some of our favorite ideas for Gratitude Finder® Journals brought to you by our awesome customers!

Need some help getting started? Here are a few FREE Gratitude/Kindness Worksheet Challenge Printables that pairs perfectly with the Gratitude Finder® Journal!