Everything you want to know about the Gratitude Finder® Journal
It's easy to get overwhelmed by all the [very scary] headlines. However, it's vital to our well-being not to lose sight of all the good things that still exist, too. Journaling about things for which you're grateful, especially now, will channel your thoughts to good things.  
The process can curb the anxiety and elevate the positivity for you and everyone around you. This is especially important for our children and those who live with anxiety.  Many of our styles are perfect for young people, too!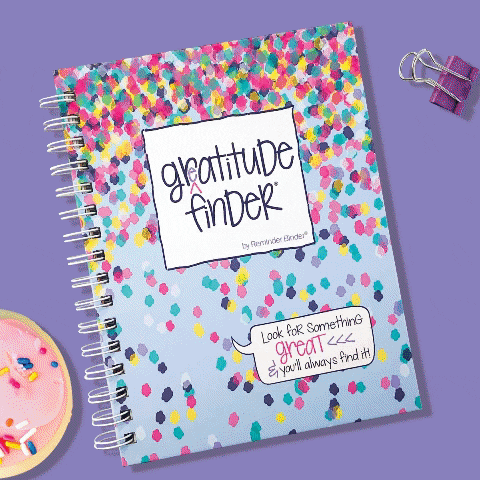 This non-dated journal is a 52-week gratitude journal created to channel positive thinking to anyone who uses it.  When you elevate your own attitude of gratitude you'll be amazed by what positivity surrounds you and how contagious thankfulness can be!
This awesome journal comes in 15 styles. This includes [4] Boy-Centric styles! Each includes the same content.
Flip through the Gratitude Finder® Journals in the video below:
Scroll down to get a closer look "under the hood" of all the features and functionalities of the Gratitude Finder® Journal.
Maybe kick the tires a bit to see if this is your new trusted tool.
The #1 question we get is how do I use this journal?
Well, the truth is you can use the Gratitude Finder® Journal however you wish.  With it's simple, non-dated layout, you can write as much or as little as you wish. 
Write special moments & fun memories to look back on for years to come.
The 165 stickers on (4) full sheets are just what you need to make every page POP! What goes better with gratitude than bright, colorful stickers?
The best part of keeping a gratitude journal is reflecting on all the good moments. The quote tabs every three months are built in for this purpose. Pause. Reflect. Be grateful.
Easily slip your Gratitude Finder® into your purse, bag, or backpack & then head out to conquer your day.
Take your journal with you to have a moment of gratitude wherever you go!
Stressed out? Breathe and look for the good. On your lunch break? Take a moment to jot down something great about your day. 
No matter how or when you can be grateful anywhere!
Q: What ages does this gratitude journal suit?
A:  The Gratitude Finder® is for anyone ages 6 to 86! Basically, if you can write, you can journal about gratefulness.  We all need to focus on the good and these journals can help anyone do just that.


Q: Does every journal have the same content inside?
A:  Yes! Every journal includes 165 stickers on (4) pages, 52 non-dated weekly spreads and (4) tabs [tabbed every three months to help find your spot and serve as a placeholder for an inspirational quote.] There are slight differences between the "girl" and "boy" versions, but each include this content.
Q: Are there prompts?
A:  Yes.  When it comes to prompts, we tried to find the balance of enough questions to get the grateful juices flowing while still letting someone be authentic in using their journal as they wish. Since the Gratitude Finder® is for anyone ages 6 to 86, it was also a challenge to publish "universal" questions in the journal itself. There are a handful of prompts at the beginning of the journal. Having said that...we offer FREE digital downloads of prompts.  We will continue to add prompts for all ages.  See what's available now by scrolling down to get yours!


Q: Are the pages dated?
A:  No. The Gratitude Finder® is non-dated, a.k.a. perpetual style.  This way, you can fill-in the dates as needed. You can use it as often as you wish to fit your lifestyle.


Q:

 Does this gratitude journal come with stickers

?
A:  Yes! The Gratitude Finder® comes with 165 stickers (or 177 stickers in Boy-Centric Styles) on [4] pages. Want more? We have a separate Grateful Heart sticker set that includes some of the designs from the journal & more, totaling 330 stickers! You can find them here.


Q:

 What is R.A.K

?
A:  R.A.K. stands for Random Acts of Kindness. Every week we encourage you to spread joy and gratitude to a someone! Pay for someone's meal, send a sweet note to a friend, compliment a stranger, etc.

These are some of our favorite ideas for Gratitude Finder® Journals brought to you by our awesome customers!


Need some help getting started? Here is a FREE 31 Days of Gratitude Prompts Worksheet Printable that pairs perfectly with the Gratitude Finder® Journal!