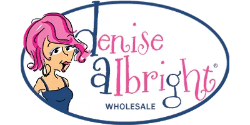 Have a question/comment about an order or item?
Have an idea to share?
Wish to collaborate on a social marketing campaign or promotion?
We love hearing from you!
OR
Call our HOTLINE: (619) 916-3322
Hours of Operation:
    Monday - Friday:  9:00am - 6:00pm EST
    Saturday:  9:00am - 3:00pm EST
    Sunday:  Closed. Messages will be answered the next business day.
Mailing Address:
    Denise Albright®
    313C Motz Avenue
    Lincolnton, NC 28092