Gratitude Journal Gratitude Finder® Journal | Super Kiddo
The greatest lesson any kid can learn is GRATITUDE!
Overheard among teachers:  When we cultivate positivity among our students, we are raising the standards for how they interact with not only their classmates but also the 1000s of people they will meet in their lifetimes.
Encouraging kids to journal about things for which they're grateful, especially now, will channel their thoughts to good things.  When you elevate their attitude of gratitude you'll be amazed by what positivity surrounds them and how contagious thankfulness can be!
This non-dated journal is a 52-week gratitude journal created to channel positive thinking to anyone who uses it.  
This gratitude journal includes all of these amazing features:
Questions, quotes and prompts to prime the pump for positivity throughout your journal
Perpetual style layout so journal daily or as frequently as you wish. 
52 weekly spreads with brilliantly colorful layouts
Each week has daily sections, three-lines for acknowledging good people or good experiences, "Words of the Week" quote bubble for jotting simple joys and a Random Act of Kindness (R.A.K.) section as a reminder even the littlest acts of kindness are kind of a big deal.
It's the perfect size to tuck in most handbags or backpacks so that it's convenient to jot a thought when moment moves you.
Laminated tabs and elastic enclosure to help you locate your current week easily
165 hand-illustrated smile-provoking stickers to enhance any entry. (177 stickers in Primary Styles)
Lots of bonus segmented quote bubbles that are just right size for a quick thought 
Water-resistant hardcover was designed to last a lifetime.  Referring to it regularly is so powerful!
Easily add photos, greeting cards, artwork using Pull & Place Strips (sold separately) to snap them into the coil.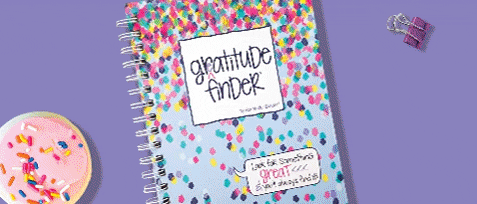 Item Specifications:
Total sheets:  52 sheets + 4 laminated tabs

Sticker count:  165 assorted stickers (177 stickers in Primary Styles)

Actual size:  8.75 x 6.75 x .5 inches 

Bindery:  White metal twin coil (Fits the Pull & Place Strips)