Bundle of 20 Sticker Sets | Best Planner Stickers | Family, Work, To-Dos, Events, Goals
A pack of TWENTY Sticker Sets! Perfectly matched with a case of Reminder Binder® planners. Stock up on stickers or gift them to friends, family, teachers, etc.
Plan it. Do it. Crush it! Never miss another event, birthday, due date, or task again when you highlight them with the awesome stickers featured in our sticker sets.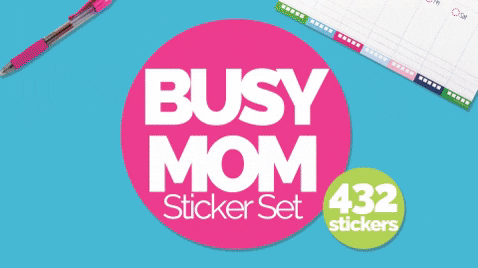 Psst...
These are the perfect complement to your Reminder Binder® Planner!  Add this set to one of our planners and you have a fantastic gift!

Choose your Bundle of 20:
Variety Set [Best Seller] - Includes (4) of each of the (5) sets below.


(20) Busy Mom (432 Stickers/set) - lots of school events, play dates, sleepovers, games, practices, lessons, family fun, birthdays, special days, doctor/dentist, vacation, picnic 


(20)

 

Every Gal (432 Stickers/set) - (no kid stickers) all major holidays, meetings, projects, household tasks, spa/pampering, vacation, coffee, shopping, birthdays, parties/celebrations, date night  


(20)

 

Get it Done, Make it FUN (342 Stickers/set) - checklist strips, goal thermometers, priority 1-2-3, gifting to-do's, "but firsts" and "& thens"


(20)

 

Grateful Heart Stickers (330 Stickers/set) -  elevate your attitude of gratitude with these adorable stickers including designs like darling sayings like "I can't even", postworthy, celebration/party, Best Day Ever, Good Hair Day, I Love Today, This is Us, Nailed It, my Happy Place, Crushed it, Best friends, Forever Friends, Like a Boss, My heart melted, travel, relax, Good Vibes, Life is Amazing, pineapples, coffee & flamingos, too!


(20)

 

Budget Builder (772 Stickers/set)

 

-

 

Build your budget with these bright & colorful stickers including designs like "No Spend Zone," Dollar Bills, Take Out, Coffee, "Pay Day," Piggy Bank, Credit Cards, "Donate," Shopping Cart, "Pay Bills," Pizza, Take Out & so much more!
See images for design selection for each.  Images are labeled by their collection
Item specifications:  

Sticker sizes vary
Each set includes (8) sheets, each sheet is 5.5 x 8.5 inches
Sticker sheets fit inside the pocket of your Reminder Binder® (sold separately)
*Planner shown is for styling purposes. It is not included. However, it is sold separately.*