Girl Power Stickers | Kids School Class Keeper® Sticker Assorted Variety Set
Girl Power Stickers (412 stickers of 145 Designs)

Stylize your Class Keeper® Pages with coordinating stickers!  Each set has 400+ stickers of 145+ designs including all kinds special events in your little person's school journey like Donuts with Dad, Muffins with Mom, Grandparents Day, Pep Rally and Field Day as well as designs for First and Last Day of School, school subjects, supplies and clubs, too!
Choose from [2] Set Options:
Girl Power Sticker (Matches the Pastel Dots Class Keeper®)
School Rocks Sticker (Matches the Primary Stripes Class Keeper®)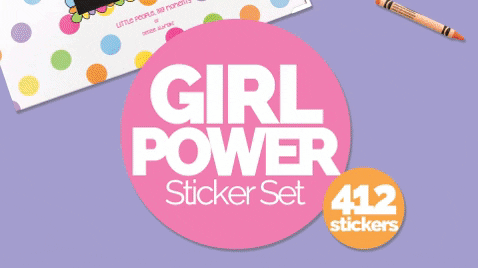 Other ideas for your stickers:
Calendars or Planner 
School notebooks and folders
Lunch bags
Backpack tags
Book plate (inside cover where you write their name)
Each set shares many of the same designs, however, they are each colored to match the corresponding Class Keeper®.  See image for list of designs and quantity of each in each set.
 Item specifications:  
Each set includes (8) sheets, each sheet is 5.5 x 8.5 inches
Girl Power Set:  412 stickers of 145 unique designs
School Rocks Set:  404 stickers of 157 unique designs
Sticker sheets fit inside the front pocket of your Class Keeper®
*Class Keeper® shown is for styling purposes. It is not included. It is sold separately.*