Everything you want to know about the Class Keeper® School Memory Binder
This Class Keeper® is a creatively compact, easy-to-use scrapbook that will help you & your child capture the good stuff throughout their school journey.  
When everything has its place, there's nothing all-over-the-place on your kitchen counters!  Best of all, you can say Buh-BYE to all those bins!  You know, like the ones stacking up (along with your mom-guilt), in your attic/garage/basement/crawl space...that are right next to the bins our own parents gave to us, collecting dust.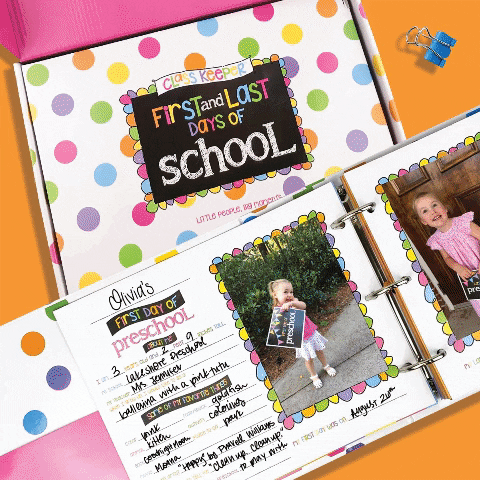 Memories to remember for a lifetime + clean counters all can be YOURS in one, compact keepsake binder!
Follow the simple guidelines and template pages of what to add and where to put it.  In the end, you will have a beautiful (compact) collection of "the good stuff" that you'll cherish for years.
Watch This Video Below:
See all the inside pages & features as we flip
through the Class Keeper® School Memory Binder.
OR
Scroll down to get a closer look "under the hood" of all the features and functionalities

of the Class Keeper® School Memory Binder.
Have you ever found yourself staring at a blank scrapbook page trying to figure out where to start? You'd spend hours rooting through crafty add-ons and doo-dads to decorate a scrapbook page only to find in the end you had (2) complete pages with 387 more keepsakes to add? 
Who's got that kind of time when you've got dinner to prep and a growing list of to-dos. 
That's why Denise developed the creatively compact Class Keeper® School Memory Binder.  It's a turn-key, pre-designed scrapbook with placeholders for everything you cherish about your kids school journal.  No thinking required...ahh...
This binder has all the awesome features you need to commemorate your child's school journey before all the keepsakes takeover every storage space in your home! The simple prompts for each grade help you capture each of your kids' favorites, especially the ones that we think we will remember.  It's near impossible to recall what kid liked what & which kid did what!
No one has the brain capacity to keep it all straight.  The Class Keeper® will help you keep all those special memories organized!
Keep-up with this page-by-page system and in the end, you'll have the most amazing collection of memories.  Gift it to your kids at graduation or keep it close to share at family gatherings.  It'll be hard to know whose smile will beam bigger...yours or theirs! #momwin
Watch your child transform from an adorable preschooler to an incredible graduate on their way to bigger, broader horizons.
It's not just what they say but what loved ones say to them, too!  These  "words of wisdom" quote bubbles are just the right size for a note from parents and loved ones as they begin a new school year.  
Every grade comes with its very own pocket, large enough to tuck 8.5"x11" sheets without folding them!  Keep their special crafts (like their handprint art), projects, awards & more for each grade.

Extra pages are perfect to commemorate your favorite moments. Dedicate a page to their teams, clubs, field trips, etc.
Always forgetting what year they were a super hero or a fairy princess mermaid? List them out with your favorite photos in the

 

Halloween section near the end of their binder!  This list will prompt holiday tales that will let you relive all the greatest stories.

The Class Keeper® is built to last. The water-resistant, sturdy keepsake box has a space to personalize (DIY) with your child's name.  Place your Class Keeper® on display or stack on a shelf.  It's a wonderful feeling to know your memories are safe & organized! #buhbyebins
Best yet, they look darling & orderly vs. those unsightly bins hogging space in your attic & basement.
This binder is the ideal size to organize all your favorite keepsakes with the tools to help you do it! No more loose sheets falling out everywhere with bent, torn corners. 
Need more space? We thought you might.  There is plenty of room on the spacious D-rings for additional keepsakes. 
Use the handy bookmark as a template to punch holes to add them onto the rings directly or get additional pockets & photo pages in the accessories section below!